Tuesday, May 31, 2005
TUESDAY REPORT - ANTICIPATION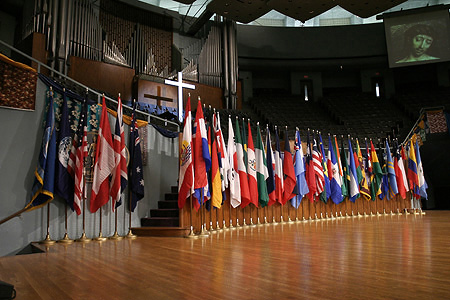 Flags of the Nations, Auditorium Rostrum.
Well Good Morning Readers,
This is the first edition of the 2005 World Conference News, almost live, from Community of Christ Headquarters in Independence, MO. Today's column is actually being written from my home in Denver, as this reporter, along with several thousand others, has been busily preparing for this conference, which is earlier than expected, because of major changes in leadership that are pending for the Church. Delegates in just a couple days, will be voting on the Ordination of Apostle Steve Veazy as the new Prophet/President of the Community of Christ. Steve has already published and presented, many of the changes in leadership that will accompany his. And so the Church will be in flux for a few days as new assignments for Apostolic Leadership are announced. Some of you may have already read copies of some of the proposed changes. For others, this column will keep you in the know as approval is given.
Delegates, like myself, from over Fifty countries have been busily preparing for this conference, and many are already traveling toward Independence, Missouri, or have already arrived. Others, with less travel time, will be leaving anytime in the next couple days. I will leave tomorrow.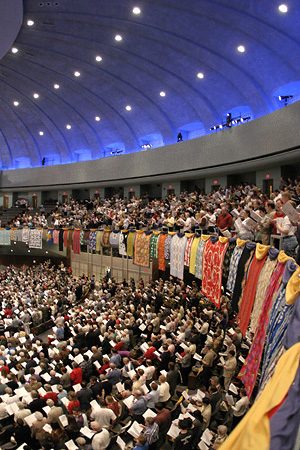 This reporter can hardly wait for all the excitement that is about to happen. Greeting many, many old friends, often seen only a gatherings of this magnitute, greeting new friends, many made even as recently as October, when this reporter was blessed with a trip to Tahiti, and worshiped with many new friends there. There will be greeting, handshaking, cheek-kissing, and hugs. There will be singing, and worshiping, and listening and voting. There will be fellowship and food -- too much food. Early mornings and late nights will blur into one large experience. And you, faithful reader, can stay tuned right here for all the latest and greatest.
As usual, one of the exciting features of this column will be the, almost live, daily photographs by one of the premier photographers in the Church, and my Brother and brother-in-law, Seventy Jim. So join us daily, right here, for updates, info, pictures, and editorial comments by your faithful conference/SPEC reporter. As mentioned, I leave tomorrow, for about ten hours of travel, and Conference will begin Thursday afternoon.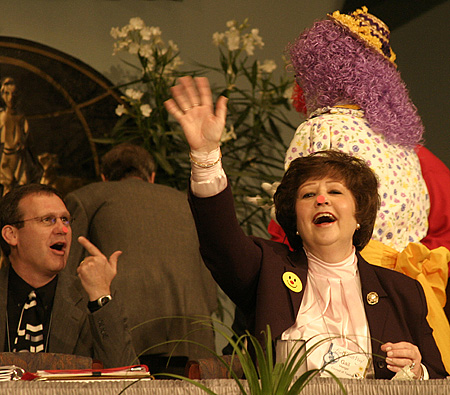 A lighter moment at conference 2004
Until then, keep us all in your prayers, the travelers, the delegates, the leadership. At this historic time we need to be unified in our purpose and mission, to Proclaim Jesus Christ, and Promote Communities of Joy, Hope, Love, and Peace. May God Bless you as you support and affirm the changes and direction of ministry these new leaders will be calling us to go.
Until next time, this is your roving reporter, signing off.
Seventy Bob